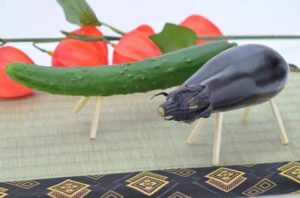 What is "Obon" holiday in Japan??
In Japan, they have holidays from August 13 to 16, called "Obon" which is Japanese traditionally welcome their ancestors on August 13th and send them back on August 16th. During these days, most of Japanese companies take holidays basically for 4 days, So that people often go back to their hometown or travel.
In some regions, fires called mukae-bi are lit on August 13th at the entrances of houses, to guide the spirits of the residents' ancestors home. The okuri-bi fires on the 16th are lit to send the ancestors' spirits back to the grave. Some people make transportation for our ancestors by horse out of a cucumber and a cow out of an eggplant. People believed that ancestors take horse of cucumber when they come back home faster on 13th and ancestors take cow of eggplant when they go back slowly on 16th.
These are the famous events during Obon holiday;
盆踊り(Bon-Odori) / Bon Folk Dance
---
"Bon Folk Dance (Bon-Odori)", which is festival during Obon holiday, is widely practiced on the 15th and 16th at night and is one of the climaxes of Obon holiday. People go to their neighborhood Bon-Odori with wearing Yukata (summer Kimono) and dance around a stage. Usually Wa-Daiko (Japanese drums) beats a rhythm on the stage.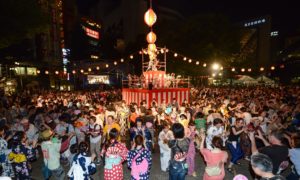 灯籠流し(Toro-Nagashi) / Floating Lanterns
---
Toro-Nagashi (Floating Lanterns) is a Japanese ceremony during Obon holiday in which participants float paper lanterns down a river. This activity is traditionally performed on the final evening of the Obon holiday. We send ancestors' spirits off by floating lighted lanterns down rivers to the ocean, because it is believed that spirits exist in mountains and on rivers.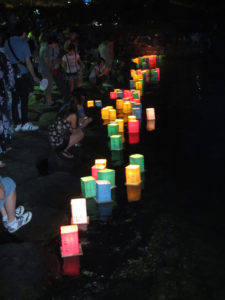 Obon is a holiday only once a year and this is really sacred holiday for Japanese people to welcome ancestors' spirits and send them back to the right place. Recently, there are less people to gather family and stay with them instead of going to travel or taking rest, however we need to respect this holidays and this is the good opportunity to think about our ancestors.