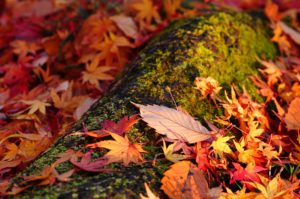 What is "Autumnal Equinox Day (秋分の日)" ?? (September 23rd)
The equinox, the time when the day and night are equal, occurs twice in a year on around March 21st and September 23rd. In Japan, the days that fall on the vernal equinox and the autumnal equinox are called shunbun-no-hi (春分の日) and shubun-no-hi (秋分の日). They have been designated as national holidays.
---
"Autumnal Equinox Day (秋分の日)" occurs September 23rd in 2018 and according to the Happy Friday, the rule to make substitute holiday for national holidays, there is substitute holiday on 24th. Around the Autumnal Equinox Day , the length of day and night is about the same. Many people visit family graves to worship their ancestors' sand comfort the spirits of their ancestors. It is the day to respect our ancestors and commemorate their death.
---
We call a seven-day period surrounding the Autumnal Equinox Day as "Higan". Higan is a Buddhist term which means " the other shore" and a metaphor for the world after death. Since it is believed that the spirits of ancestors return to this world during this period, we have an unique custom to visit our ancestors' graves during this period.
On Autumnal Equinox Day, people offer "Ohagi", sticky rice ball covered by red bean paste, to the Buddha. There are varieties of Ohagi flavors such as roasted soybean flour or sesame topping.