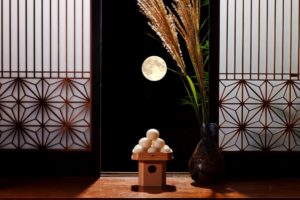 What is "Moon Viewing (お月見)" and "the Harvest Moon(十五夜)"? (September 24)
Moon Viewing (Otsukimi:お月見) is a seasonable activity to enjoy the (full) moon. The day we enjoy Moon Viewing is called "the Harvest Moon (Jugoya:十五夜)".  The Harvest Moon is the day to show appreciation of every harvest and respect blessing of nature. The date of full moon is differ depending on the year. Autumn was used to be between July and September, however nowadays there is little difference that Autumn is considering between September and October. Since the month of season is different from before, the date of "Moon Viewing" is also different. It was August 15th, but in this year, it is September 24th. On this day, people decorate place (usually balcony or veranda), where we can see the moon, with sliver grasses and offer rice dumplings. It is said that silver grass can house a Shinto God, and acts as a charm against evil. People offer the rice dumplings in appreciation for the harvest of grains.
The moon which you can see on the Harvest Moon day is called "Chushu-no-meigetsu (中秋の名月)" which means "Mid-Autumn moon". In English, it is called "Harvest moon". August on the Chinese calendar (September on the Gregorian calendar) is a good season to see the moon in the northern hemisphere because of the angle of the sun and the moon. However, the harvest moon is not always a full moon. The full moon tends to come after the harvest moon.